☆ ★ Domestic sparerib course ★ ☆ 7 dishes 【3 H with all you can drink】 6,000 → 4,980
Course details
☆ ★ Domestic sparerib course ★ ☆ 7 dishes 【3 H with all you can drink】 6,000 → 4,980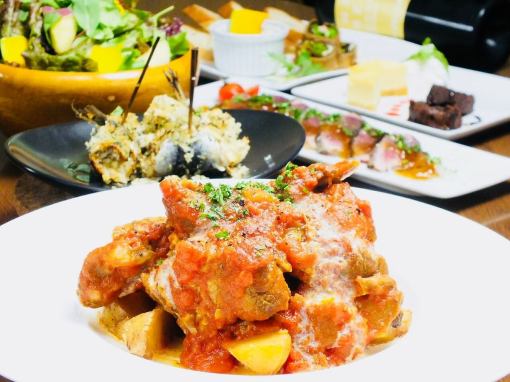 By using a coupon4980 yen
tax included
All-you-can-drink available

All-you-can-drink all-you-can-eat ☆ Including non-alcoholic cocktails, relaxing plenty of 3 hours!
Available days for reservation

Monday - Saturday, Sunday and public holidays - Holidays
A luxurious course where you can enjoy lantern popular spare ribs ♪ All you can drink is prepared for 3 hours plenty plenty! In case of cooking only, it is 3700 yen per person (tax included) per person.
Course menu
◆ Return bonito carpaccio
◆ Pumpkin and cream cheese putty bucket included
◆ seasonal vegetable salad
◆ Duck and dried fig garret roll
◆ Beccafico of sardine
Simmered domestic pig sparerib tomato sauce
◆ Japanese style pasta with scallop and tree
◆ Assorted homemade dessert
(8 items in total) + all-you-can-drink 3 hours
※ Change the dessert to the hole cake for free OK!
Please use it for various celebrations ♪
※ The contents of the dish may change depending on the season and arrival.
Please do not hesitate to ask us what you can not eat or what you are not good at.
All-you-can-drink menu
·Highball
· · Oak Master High Ball · Ginger High Ball · Cork High Ball · Peach High Ball · Litchi High Ball · Brandy High Ball
·wine
· · California red wine · California white wine
Wine Cocktail
.. · Kitty · Wine cooler · Shambellini · operator · Splitzer
·vermouth
.. · Tinzano Extra Dry · Tinzano Rosso
·Cocktail
· Gin · Vodka · Lamb · Tequila · Cassis · Peach · Lychee · Campari and various others
·beer
..Giraffi squeezed draft beer
Shochu
· · Double-cherry tree (wheat) · black-hat rough seed (sweet potato)
·Sake
· · Inou (Chiba)
·plum wine
..A rich plum wine
- Non-alcoholic cocktail
· · Orange cassis · grape cassis · oolong cassis · orange peach · gurefle peach · peach peach · shower grapefruit · helen · flower cooler · saratoga cooler · shirley temple · lemon splash
·Soft drink
· · Orange juice 100% · grapefruit juice 100% · cola · ginger ale · oolong tea
·sour
· · Lemon Sour · Lime Sour · Grapefruit Sour · Oolong High
Coupons that can be used with this course
2018/08/31 update