☆ Adult girls party course ☆ 3500 yen
Course details
☆ Adult girls party course ☆ 3500 yen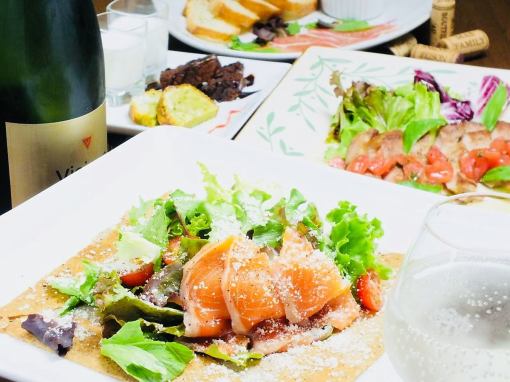 By using a coupon3500 yen
tax included
All-you-can-drink available

All-you-can-drink all-you-can-eat ☆ Including non-alcoholic cocktails, relaxing plenty of 3 hours!
Available days for reservation

Monday - Saturday, Sunday and public holidays - Holidays
Girls' Association course menu, Petit Renewal ☆ ☆ French regional cuisine "Galette" ♪ 8 dishes + 3 desserts plus drinks 3 hours! In addition !! Sparkling wine (sweet or drunk) with more than 4 people 1 service * 2 people with over 8 people prepared! (Fri, Saturday, All-you-can-drink 2.5 hours on the day before public holidays)
Course menu
Assorted three appetizers
·Raw ham
· Shrimp and Avocado Raw Spring Roll
· Pate of chicken and cream cheese
◆ homemade sauce Bagna cauda
◆ Homemade Salmon Marinated Salad Galette
◆ Sauteed Soft Pork Loose Tomato and Basil Sauce
◆ Japanese style pasta with beef and mushrooms
◆ 3 homemade dessert assortments
★ Dessert can be changed to Hall cake for free !!
♪ Please celebrate various occasions (reservation required until 2 days before)
+ All you can drink 3 hours
(Friday and Saturday, 2.5 hours on the day before holidays)
In addition !! 1 serving authentic sparkling wine (sweet or dry) for 4 or more people
※ 2 people prepare for 8 people or more.
※ Men will be available at +380 yen.
※ The contents of the dish may change depending on the season and arrival.
※ Please do not hesitate to consult us about things we can not eat or weak.
All-you-can-drink menu
·Highball
· · Oak Master High Ball · Ginger High Ball · Cork High Ball · Peach High Ball · Litchi High Ball · Brandy High Ball
·wine
· · California red wine · California white wine
Wine Cocktail
.. · Kitty · Wine cooler · Shambellini · operator · Splitzer
·vermouth
.. · Tinzano Extra Dry · Tinzano Rosso
·Cocktail
· Gin · Vodka · Lamb · Tequila · Cassis · Peach · Lychee · Campari and various others
·beer
..Giraffi squeezed draft beer
Shochu
· · Double-cherry tree (wheat) · black-hat rough seed (sweet potato)
·Sake
· · Inou (Chiba)
·plum wine
..A rich plum wine
- Non-alcoholic cocktail
· · Orange cassis · grape cassis · oolong cassis · orange peach · gurefle peach · peach peach · shower grapefruit · helen · flower cooler · saratoga cooler · shirley temple · lemon splash
·Soft drink
· · Orange juice 100% · grapefruit juice 100% · cola · ginger ale · oolong tea
·sour
· · Lemon Sour · Lime Sour · Grapefruit Sour · Oolong High
Coupons that can be used with this course
2018/08/31 update